17 November 2020
FSBI TsNIGRI participates in the V session of the Working group on geology and mining
as part of the XVIII session of the Russian-Cuban intergovernmental Commission
on trade, economic, scientific and technical cooperation
On November 12, 2020, the V online meeting of the working group on geology and mining was held as part of the XVIII session of the intergovernmental Russian-Cuban Commission on trade, economic, scientific and technical cooperation; the event was managed by Rosnedra.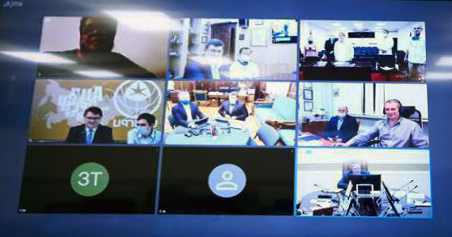 TsNIGRI representatives attending the meeting were A.I. Chernykh, General Director, E.A. Naumov, Deputy General Director, and E.E. Kotelnikov, Head of the international relations department.
The Cuban party, led by the Deputy Minister of energy and mining of the Republic of Cuba, Yu.V. Lazo, was represented by the Ministry of Energy and Mining of the Republic of Cuba (MINEM) and the Cuban geological companies, GeoMinera, S. A. and IGP.
During the meeting, the parties informed each other about implementing the decisions recorded in the Protocol of the IV meeting of the Working group on geology and mining. TsNIGRI and GeoMinera representatives noted positive results in implementing the previous bilateral agreements.
FSBI TsNIGRI put forward proposals for enhancing the cooperation, defined activities for further cooperation and outlined long-term plans.
Based on the Working group activities results, it was decided to hold the next Working group meeting in 2021.